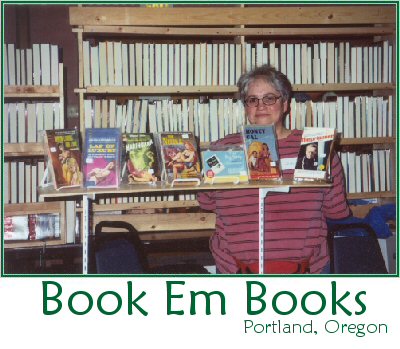 Welcome to the home of Book 'em. Please search or browse our inventory of hard to find, out of print, used, and rare books. If you can't find what you like please fill out our off-line search form and we will search our off-line inventory, other bookstores and book search services for you. We have over 5000 collectible paperbacks in all genres, and over 1000 hardcover first editions, including many 19th and early 20th century mysteries. We are only open by appointment; if you will be in the Portland area, please phone ahead.
FREE Shipping! Shipping is FREE for books shipped via Media Mail in the U.S. And, despite the recent rise in postal fees for International and Priority shipping, our rates remain low for those services. International customers: please contact me before paying for shipping; I always look for the ways to save you money!
What's new, May, 2013: A very rare first edition of Stranger in a Strange Land, SIGNED by Robert A. Heinlein. The first edition of Flannery O'Connor's The Violent Bear It Away, signed by her.(If you wish to purchase either of these titles, please contact me via phone or e-mail for credit card authorization, or pay instantly via Paypal.) A small collection of early 20th century illustrated and children's books. A new book by local author Jeanine Bassett: Shadows and Veins, a harrowing tale of drug addiction and redemption. And, all mysteries 20% off for the entire month of May! Buy one or 100!
We continue to feature a new novel by local author Vanessa Veselka: Zazen. We rarely sell new books (hard to compete with the big guys) but this one is so great we just had to do it anyway. Vanessa has been awarded the prestigious PEN/Robert W. Bingham Prize for a debut work of fiction. We have signed copies available; I hope you'll treat yourself to one!
We take Paypal, as well as all other major credit cards!