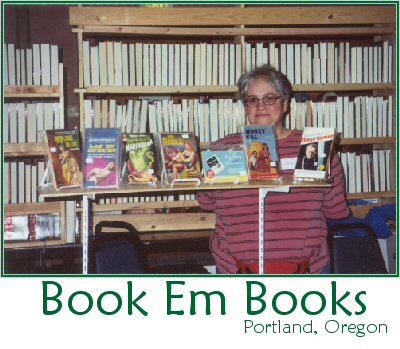 PLEASE NOTE THAT WE ARE CONTINUING TO FILL ORDERS, BUT YOUR ORDER MAY BE DELAYED. INFORMATION CHANGES DAILY. WE ARE NOT CURRENTLY ACCEPTING APPOINTMENTS FOR IN-STORE VISITS.
Welcome to the home of Book 'em. Please search or browse our inventory of hard to find, out of print, used, and rare books. If you can't find what you like please fill out our off-line search form and we will search our off-line inventory, other bookstores and book search services for you. We have over 5000 collectible paperbacks in all genres, and over 1000 hardcover first editions, including many 19th and early 20th century mysteries. We are only open by appointment; if you will be in the Portland area, please phone ahead.
FREE Shipping! Shipping is FREE for books shipped via Media Mail in the U.S. And, despite the recent rise in postal fees for International and Priority shipping, our rates remain low for those services. International customers: please contact me before paying for shipping; I always look for the ways to save you money! 
Featured items: A copy of EM Forster's Battersea Rise, signed on the cover and title, and with a hand-correction to the last page.
The signed limited edition of Burke's In the Electric Mist.
Disney's Pop-Up Silly Symphonies, with all pop-ups intact.
A signed first American edition of The Borrowers Afloat, in dust jacket.
A beautiful signed limited edition of Let's Pretend, by Georgette Agnew, with illustrations by Ernest H. Shepard. 
The first edition, in dust jacket, of Vonnegut's Cat's Cradle.
A SIGNED copy of The Vanguard: A Photographic Essay on the Black Panthers.
We have recently purchased a large number of collectible paperbacks. Check back daily for new listings!

We take Paypal, as well as all other major credit cards!