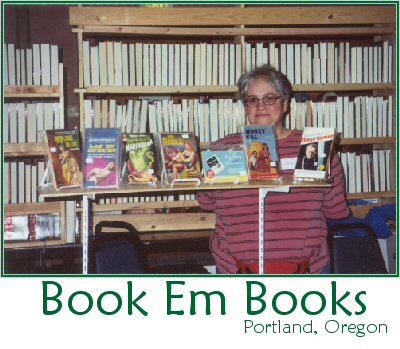 PLEASE NOTE THAT WE ARE NOT CURRENTLY ACCEPTING APPOINTMENTS FOR IN-STORE VISITS.
Welcome to the home of Book 'em. Please search or browse our inventory of hard to find, out of print, used, and rare books. If you can't find what you like please fill out our off-line search form and we will search our off-line inventory, other bookstores and book search services for you. We have over 5000 collectible paperbacks in all genres, and over 1000 hardcover first editions, including many 19th and early 20th century mysteries. We are only open by appointment; if you will be in the Portland area, please phone ahead.
FREE Shipping! Shipping is FREE for books shipped via Media Mail in the U.S.  We have had to raise our international rates this year, but we will NEVER charge more for postage than we pay. If our international flat rate turns out to be more than the actual rate (for example: for a single paperback book to Canada) we will promptly refund the excess.
FEATURED ITEMS:
 A copy of EM Forster's Battersea Rise, signed on the cover and title, and with a hand-correction to the last page.
A SIGNED copy of The Vanguard: A Photographic Essay on the Black Panthers.
Two signed books by Nobel Prize winner Louise Gluck, in fine condition.
A signed copy of Gertrude Stein's The Making of Americans, in dust jacket.
One of 100 SIGNED copies of Alfred Douglas' My Friendship with Oscar Wilde.
A revised shooting script of the Grapes of Wrath, in original format, with the controversial ending.
The scarce first edition of the first Miss Marple book, Murder at the Vicarage.
A very good copy of Rex Stout's Rubber Band, in the scarce original dust jacket.
We have recently purchased a large number of collectible paperbacks. Check back daily for new listings!
IMPORTANT NOTE: ALL ORDERS OF $1000 OR MORE MUST BE PAID FOR WITH PAYPAL. NO EXCEPTIONS. WE REGRET ANY INCONVENIENCE.

We take Paypal, as well as all other major credit cards!